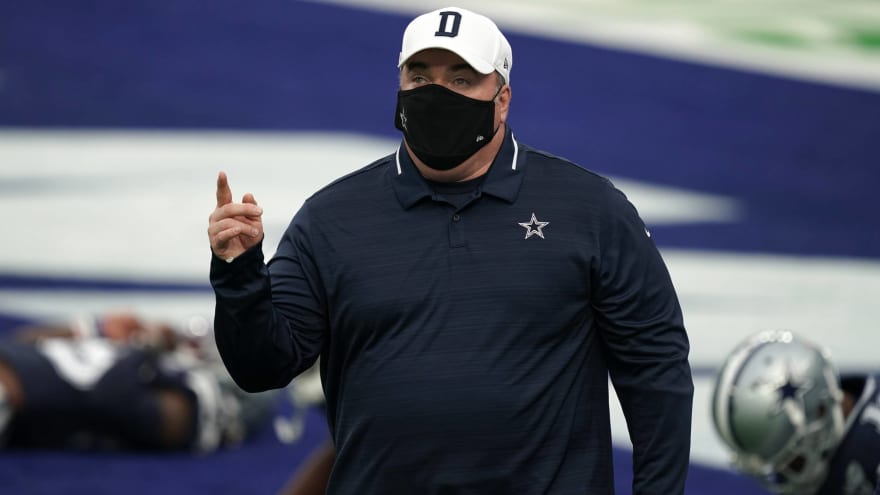 Dallas Cowboys coach Mike McCarthy
Kirby Lee-USA TODAY Sports
Mike McCarthy to remain Cowboys coach in 2021
It appears that reports that Mike McCarthy will remain Dallas Cowboys head coach through the start of the 2021 NFL season were accurate despite the team's 4-9 record.
On Monday, Cowboys executive vice president Stephen Jones said during an appearance on local radio station 105.3 The Fan that McCarthy is safe.
"There will be absolutely no change with coach Mike McCarthy," Jones explained, per Todd Archer of ESPN.
It is, however, possible that the front office could require McCarthy to make changes to his defensive staff.
According to ESPN stats, Dallas is responsible for the league's worst defense, surrendering 162.7 rushing yards per game. The Cowboys are also conceding a league-high 30.8 points per contest.
McCarthy's job was made all the more difficult when starting quarterback Dak Prescott was lost for the season after he suffered a gruesome leg injury in the 37-34 win over the New York Giants on Oct. 11. Following that game, a win, the Cowboys dropped four straight games and six of eight.
"If you look at his track record and pedigree, he's consistently won year in and year out and we have the utmost confidence that this ship is going to be righted quickly," Jones said of the coach who guided the Green Bay Packers to one Super Bowl title during his 13 years with that organization. "And Mike's going to be the leader of this group and he's certainly a great head coach. I think we're going to see that going forward, that he's a great head coach in this league. He's accomplished a lot and he's going to accomplish a lot more before it's all said and done."
Zac Wassink is a football and futbol aficionado who is a PFWA member and is probably yelling about Tottenham Hotspur at the moment. Erik Lamela and Eli Manning apologist. Chanted for Matt Harvey to start the ninth inning of Game 5 of the 2015 World Series at Citi Field. Whoops. You can find him on Twitter at @ZacWassink.
More must-reads: