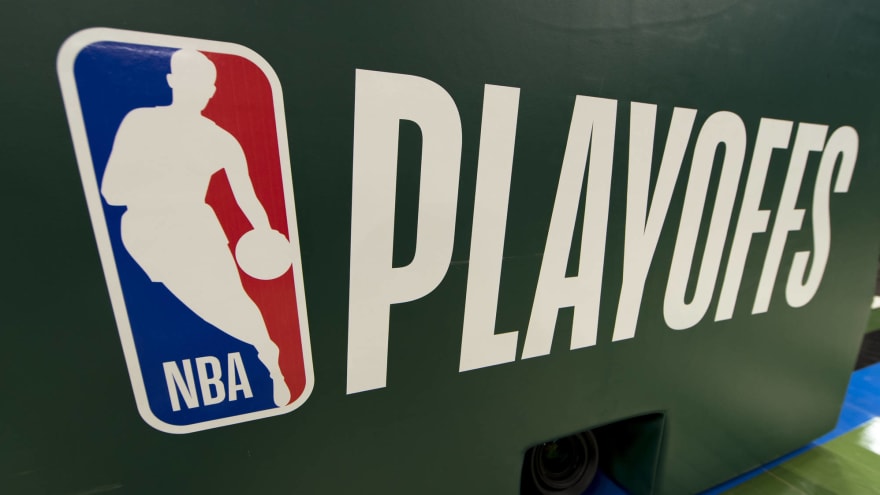 Forecasting how the 2020-21 NBA season will play out is tough with training camps just starting to get underway.
Jeff Hanisch-USA TODAY Sports
With the season's tip-off closing in, it's time to make some NBA playoff predictions, and project which eight teams from the Eastern and Western Conference will qualify for the postseason.
There will be some new teams in, and inevitably several playoff squads from yesteryear who will be on the outside looking in. We'll keep an update on these projections, but will be transparent about our original picks! Check out our initial NBA playoff predictions below.
NBA playoff predictions: Eastern Conference
1) Milwaukee Bucks; 2) Miami Heat; 3) Brooklyn Nets; 4) Boston Celtics; 5) Toronto Raptors; 6) Philadelphia 76ers; 7) Indiana Pacers; 8) Washington Wizards
The trade for Jrue Holiday was a massive move for Milwaukee, both for its NBA title hopes and for its bid to keep Giannis Antetokounmpo with the Bucks for the long haul. If this year doesn't result in at least an NBA Finals trip, Milwaukee may lose its back-to-back league MVP.
Stakes don't get much higher than this, particularly for a small-market team. The Greek Freak is in the midst of a contract year, and although he's eligible for a super max contract as incentive to stay with the Deer, Antetokounmpo could very well bail for a superior organization on the open market this coming summer. He'll be the most prized young free agent in recent memory.
Miami actually made it to the Finals and won two games against the Lakers despite a couple key injuries. With much of the team returning to run it back, why doubt the Heat's ability to build off their playoff run? The short turnaround between NBA seasons actually works to their advantage in that regard.
Kyrie Irving raised a red flag recently when he announced his intentions to proceed with a media blackout. Whatever. Irving and Kevin Durant are too talented to finish lower than third in the East, even if there are growing pains to start under first-time head coach Steve Nash.
Most of the other squads from the 2020 NBA playoffs return, with the one new addition being the Wizards. Let's not forget that Bradley Beal was No. 2 in the league in scoring during the 2019-20 campaign with 30.5 points per contest. Now he has the electrifying Russell Westbrook playing alongside him. Westbrook is a triple-double waiting to happen and an upgrade in almost every conceivable way over Beal's old backcourt mate John Wall.
NBA playoff predictions: Western Conference
1) Los Angeles Lakers; 2) Los Angeles Clippers; 3) Dallas Mavericks; 4: Denver Nuggets; 5) Golden State Warriors; 6) Phoenix Suns; 7) New Orleans Pelicans; 8) Utah Jazz
Due to the depth in the West, there's a lot more room for reshuffling in the standings than there seems to be in the East.
Among the notable narratives to arise from this set of predictions for the West's top eight seeds, the obvious starting point is the Lakers defending their conference title, at least in the regular season. They will once again ascend to Western royalty thanks to the tandem of LeBron James and Anthony Davis.
But the Purple and Gold also upgraded their roster from this past year's championship run, poaching Sixth Man of the Year Montrezl Harrell from the Clippers and landing former Thunder guard Dennis Schröder in a trade. Between those acquisitions and their bargain signing of Marc Gasol, the frontcourt is more skilled, and Schröder alone upgrades the Lakers' guard platoon.
What also stands out is how fast two of the game's brightest young stars will help their franchises take leaps forward. That's right: Luka Doncic and the Dallas Mavericks are getting all the way to the No. 3 seed, while Zion Williamson, reigning Most Improved Player Brandon Ingram and a promising young core of players come together in New Orleans to squeak into the postseason.
Other buzz-worthy developments: Chris Paul getting dealt from Oklahoma City to Phoenix helps to push the Suns into the postseason and sends the Thunder to the NBA draft lottery. A healthier Warriors squad, despite the loss of sharpshooter Klay Thompson for a second straight season, returns to the playoffs with a new-look lineup, a resurgent Stephen Curry and a legitimate X-factor in rookie No. 2 overall pick James Wiseman at center.
NBA playoff predictions: Postseason matchups and winnersEastern Conference bracket:
No. 1 Bucks defeat No. 8 Wizards, 4-1; Bucks advance to Conference Finals, 4-1No. 2 Heat defeat No. 7 Pacers, 4-1; Heat advance to Conference Finals, 4-3No. 3 Nets defeat No. 6 76ers, 4-0No. 5 Raptors defeat No. 4 Celtics, 4-3
The dynamic duo of Westbrook and Beal won't be enough for Washington to derail the Bucks' championship hopes in Round 1. Holiday is one of the game's best defenders, and is joining a squad that ranked No. 1 in the NBA last season with a 102.5 defensive rating. Khris Middleton and Giannis are too much defensively for the backcourt-dependent Wizards to handle.
It'd be tough to see two quality teams like the Raptors and Celtics square off in the quarterfinals, yet that's where we could be headed due to the Heat's recent emergence and Brooklyn's superstars returning. A Boston-Toronto duel would easily be the most competitive series, with the Raptors flipping the script to exact revenge on this occasion.
Imagine what it'd look like to see Miami square off with Irving and Kevin Durant. Whereas the Heat are the ultimate team with Jimmy Butler as the central star to build around, the Nets still have to sort out their chemistry with two mercurial superstars in Durant and Irving leading the charge. After a tightly contested, seven-game series in which they emerge victorious over Brooklyn, those gritty Miami players would run out of gas if and when they'd meet Milwaukee in the Eastern Conference Finals. Look for Holiday's presence to loom large over this series as the Bucks roll to a 4-2 win.
Where things could change in these NBA playoff predictions is if somehow the Nets all get on the same page in swift order under new head coach Steve Nash. He enters with zero experience, yet if Nash can get Durant and Irving to buy in, and those two ball-dominant scorers can figure out how best to share and keep other capable teammates like Caris LeVert, Spencer Dinwiddie and Joe Harris involved, Brooklyn has the makings of a championship-caliber squad. On the other hand, if the Nets draw Boston or Toronto in Round 1, there's the very real possibility of a disappointing early exit.
For now, we're splitting the difference on Brooklyn, who's the biggest wild card entering the new NBA season. Another huge X-factor: Whether the Nets or 76ers can swing a trade for James Harden.
Western Conference bracket:
No. 1 Lakers defeat No. 8 Jazz, 4-1; Lakers advance to Conference Finals, 4-1No. 2 Clippers defeat No. 7 Pelicans, 4-2No. 3 Mavericks defeat No. 6 Suns, 4-1; Mavs advance to Conference Finals, 4-2No. 4 Nuggets defeat No. 5 Warriors, 4-3
The Warriors' resurgence is limited to a seven-game playoff series in the opening round, as they draw a tough duel against the Nuggets. Between Jokic, Jamal Murray and a rising star in Michael Porter Jr., Denver has a little too much firepower for the Dubs to handle sans Thompson.
In advancing to the Western Conference Finals, the Lakers would go through the Nuggets for the second consecutive postseason, only a round sooner this time. They're much better built to deal with Denver's Nikola Jokic, with Gasol being a particularly key piece in the defensive efforts against the Nuggets' incredible, instinctive passing big man.
Elsewhere on the Western front, a rematch of last year's thrilling first-round showdown, our projections have Luka Doncic and the Mavericks getting revenge on the Clippers. This is mainly due to the fact that Doncic managed to steal two wins from L.A. in his playoff debut, and was hobbled by a sprained ankle much of the time — not to mention going multiple contests without his No. 2 guy, Kristaps Porzingis.
Dallas is playing with house money at the minute while Doncic and Porzingis grow together. Kawhi Leonard and Paul George have opt-outs in their contracts after the 2020-21 season. In no small part due to lackluster leadership, they will collapse under championship expectations.
LeBron, Anthony Davis and the Lake Show ultimately dispatch Doncic and Co. to return to the NBA Finals, but the Mavs would put up a valiant fight in this scenario. Provided Porzingis is playing to his potential and his knee is healed, he's one of the few bigs in the Association who can go toe-to-toe with Davis on both ends of the floor. If not on a consistent basis, it'll be often enough for L.A. to sweat out a six-game Western Conference Finals series.
NBA playoff predictions: NBA Finals matchup and champion2021 NBA Finals: Lakers defeat Bucks, 4-2
You don't think LeBron took it personally that Giannis won MVP honors for a second season in a row? This despite the fact that The King, in Year 17, dragged the Lakers out of their dysfunctional mess and transformed his game to transform the franchise into a proud, championship winner. With 10.2 assists per game, LeBron led the NBA in dimes this past season, and granted, the MVP is a regular-season award, yet it's hard to ignore how Milwaukee failed to even reach the NBA Finals, much less win it.
As the West's No. 1 seed, LeBron didn't even have the typical advantages of home court throughout the playoffs. Didn't matter. He adapted well enough to win his fourth championship, and in our NBA playoff predictions as of today, the Lakers pull off a repeat — something The King believes is a legitimate possibility as it is.
But to his credit, Giannis isn't backing down from anyone or anything. This is his contract year. He has a new teammate in Holiday who's more of a team player and a superior defender to Eric Bledsoe. That may be the most underrated and significant upgrade to any title contender from this offseason. Plus, Giannis just keeps improving, and attempted a career-high 4.7 3-pointers per game in 2019-20. If he hits even marginally better than his 30.4% clip, opponents will have even more trouble defending the Bucks.
Look for Giannis to rise to the occasion and put forth his best season as a pro to date. The question is, will it be enough? As it stands, the Lakers' acquisitions of Harrell, Schroder and Gasol are too much for Milwaukee or any other playoff foe to handle. It ultimately should result in LeBron claiming a fifth title, further closing the GOAT debate gap on Michael Jordan and fortifying the Lakers as a premier NBA franchise after several seasons of futility.
This article first appeared on Sportsnaut and was syndicated with permission.
More must-reads: