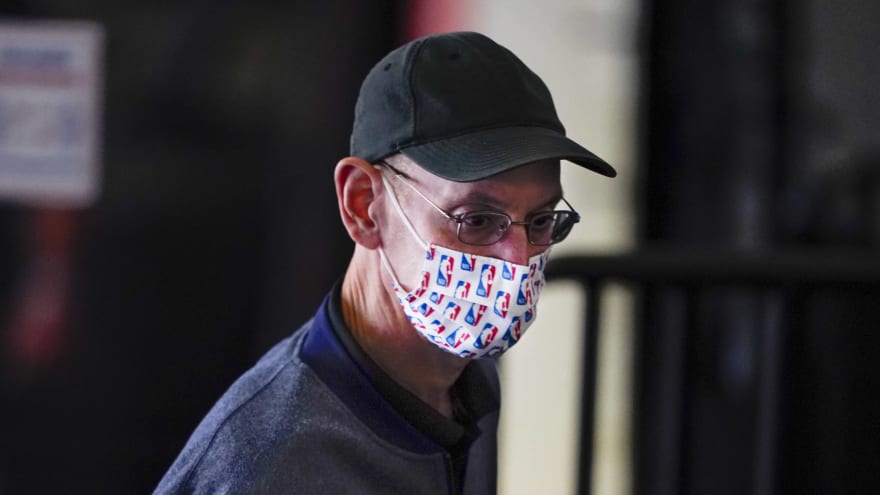 NBA commissioner Adam Silver and the league are taking a proactive approach in determining how to handle a COVID-19 vaccine.
Pool Photo-USA TODAY Sports
NBA working on leaguewide protocol for when vaccine is available
Multiple vaccines for COVID-19 are in the final stages of getting approved and in order to prepare, the NBA is reportedly creating specific policy that will help the distribution of the vaccine around the league go as smoothly as possible.
Sources told ESPN that Adam Silver and his staff have been communicating with "teams, players, and agents" while developing vaccine protocol, hoping to help everyone feel informed and confident when the time to take the vaccine finally comes. Silver is considering creating "an educational program for players and staff about vaccine choices, possible side effects and efficacy with the intent to put players at ease so they are willing to receive the vaccine."
There is some disagreement about how open players will be to receiving a vaccine. While many insist players will welcome it, others feel that players will need to be shown that it is safe and secure before they'd be willing to take a vaccination.
"We are going to need someone they trust, who is not involved with the league, that can lay it out for the skeptical guys," said an agent. "Maybe it's someone like [former] President [Barack] Obama. To position this to the players as an opportunity to motivate others, which happened with masks."
The NBA is also attempting to establish policy about when the league will actually seek injections, as the NBA "aims to respect whatever guidelines and criteria are enforced by the government and medical agencies concerning which populations will receive a vaccine early."
Blake Harper is a writer based in New York. He's originally from San Diego and is one of the few Chargers fans left. He doesn't believe in ties and loves elaborate celebrations. Follow him on Twitter @beezyharps
More must-reads: