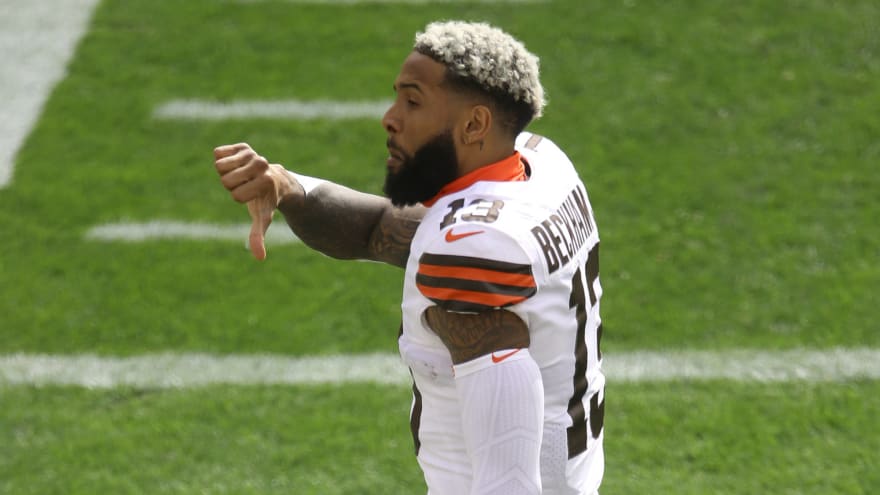 Browns wide receiver Odell Beckham Jr. doesn't recall is time with the Giants all that fondly.
Charles LeClaire-USA TODAY Sports
Odell Beckham Jr. 'never thought' he would play for anyone but Giants
Odell Beckham Jr.'s days with the New York Giants are well behind him, but while he's sidelined with a torn ACL, the Cleveland Browns star took time to reflect on his career with Big Blue.
The superstar revealed on the "All Things Covered" podcast that he never thought he'd play with anyone but the Giants. He also admitted that he "ran into trouble" when he made it known that he didn't agree with how the organization ran things, specifically when it came to building around Eli Manning.
"It bothered me because they never built around him and we were just drafting, but we were just drafting and not building an organization and a franchise," Beckham Jr. told Patrick Peterson and Bryant McFadden. "My frustration grew because it was another 5-11 and 5-11 and we were just never good. Even the year we were 11-5, the defense was holding teams to 10 points a game and we were only good because of the defense. My frustrations grew and I felt like they weren't growing and I had wanted more."
Odell Beckham Jr. opened up on his time with the #Giants on the @ATCoveredPod: "I never thought I would play for another team."

He explains where he ran into trouble with them and why he was so frustrated. "I felt like they never put enough around Eli." pic.twitter.com/Fxl1SmYEag

— NFL Update (@MySportsUpdate) December 8, 2020
In Beckham's five-year tenure with the Giants, the club went 31-49, making just one postseason appearance. Despite averaging over 1,000 yards and eight touchdowns per season during that span, Beckham Jr. just wanted the Giants to be legitimate championship contenders, putting team glory over self-achievement.
The 28-year-old's career with the Browns hasn't been near as statistically pleasing and revealed during the podcast it's because he's been dealing with a number of injuries since joining Cleveland in 2019. Before tearing his ACL this season, Brown said that he was battling a hernia injury throughout the 2019 campaign.
In just 23 games for the Browns, Beckham Jr. has 97 receptions for 1,354 yards and seven touchdowns. He should be back for the 2021 season, saying he is progressing from his ACL injury faster than anticipated.
Erin Walsh is a Boston sports fan through and through. Although many think Boston sports fans are insufferable, Erin tries to see things from a neutral perspective. Her passion is hockey, and she believes defense wins championships. In addition to covering sports for Yardbarker, she covers Boston sports for NBC Sports Boston. Follow her on Twitter @ewalsh90
More must-reads: