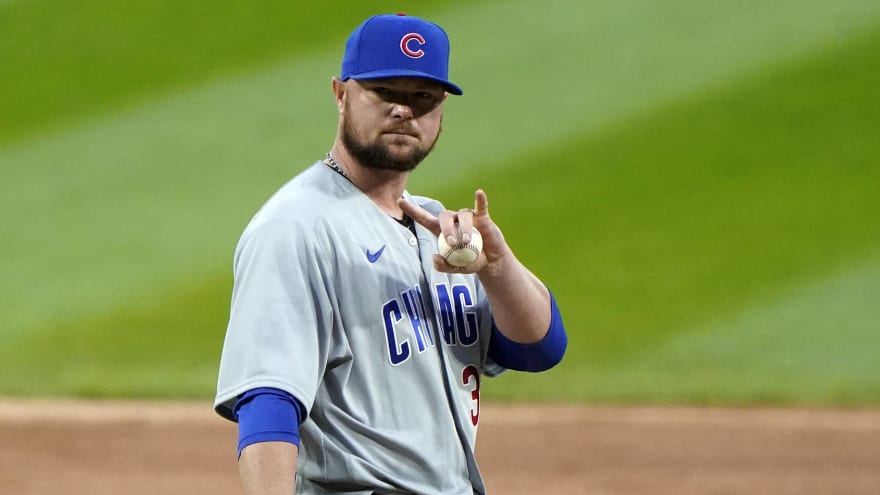 The Red Sox are not believed to be interested in a Jon Lester reunion.
Mike Dinovo-USA TODAY Sports
Report: Red Sox not interested in reunion with Jon Lester
The Boston Red Sox are in the market for pitching help, but they don't appear to be keen on a reunion with Jon Lester.
According to WEEI's Rob Bradford, the Red Sox haven't expressed interest in the left-hander, who had previously told him in May that he would be open to finishing his career "where it all started."
Lester was drafted by the Red Sox in 2002 and spent nine seasons in Boston before being traded to the Oakland Athletics in 2014. He then signed a six-year, $155 million contract with the Chicago Cubs in 2015 and recently had his 2021 option declined by the club.
During his nine seasons with the Red Sox, Lester won 110 games, was a three-time All-Star and won two World Series titles with the club in 2007 and 2013.
Despite Boston having no interest in the veteran, the San Francisco Giants have been linked to Lester in recent weeks.
The Red Sox have shown interest in Trevor Bauer, Corey Kluber, J.A. Happ and Japanese pitcher Tomoyuki Sugano this offseason.
Erin Walsh is a Boston sports fan through and through. Although many think Boston sports fans are insufferable, Erin tries to see things from a neutral perspective. Her passion is hockey, and she believes defense wins championships. In addition to covering sports for Yardbarker, she covers Boston sports for NBC Sports Boston. Follow her on Twitter @ewalsh90
More must-reads: